Description
Reduce fatigue, stress, fats, and cellulites using acupuncture points feet massager.
EMS Treatment : Reduces Fatigue & Improves Blood Circulation
The foot massager stimulates acupuncture points that gives several benefits to the body such as pain reliever, increases blood circulation, relaxation, and more. Your feet will benefit from a general massage, where it reduces muscle tension, and fatigue.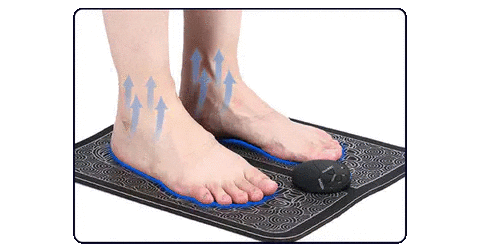 Reduces Muscle Tension and Strain
Improve Blood Circulation
Arthritis, Reduce Stiffness, and Lessen Needles Feeling
Relieves Plantar Fasciitis
Anti Swelling
Alleviate Veins Varicose
Promote Fat Burning
Pulse Technology: Strengthened Muscle & Tightened the Skin
With the help of pulse technology, the EMS Acupoints Stimulator Massage Foot Mat is does not only works for releasing daily stress, but also improve physical health. The treatment works by sending electronic pulses to the muscle needing treatment, which causes the muscle to exercise passively. By using the foot mat, your muscle can be tightened, strengthened, while reducing the visibility of cellulites. Giving your legs a slim and toned shape.
Payment & Security
Your payment information is processed securely. We do not store credit card details nor have access to your credit card information.