Description
Our pet bathing tools combines a brush and a water hose in one. It not only washes the pet, but also massages it at the same time. The bathing tool is a portable combination of spraying and washing device, which puts the control of water in your hand and takes away your pet's fear of bathing.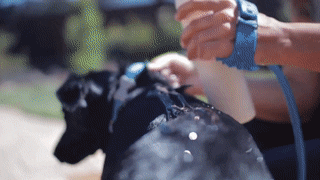 Features:
The perfect pet shower sprayer with evenly placed soft needles provides a real fun experience for your pet and reduces stress.
It can be easily connected to your bathtub, shower, outdoor faucet or garden hose.
The pet shower is suitable for any palm. Both adults and children can use the pet bathing tool.
Make your pet feel like a fun treatment. From now on, they will fall in love with the bath shower experience.
Specifications:
Material: Silicone + ABS + Hardware
Color: Blue
Size: as pictures show
Suitable for: Dog, Cat, Horse
Payment & Security
Your payment information is processed securely. We do not store credit card details nor have access to your credit card information.