Description
The game is simple but ingenious: players sit opposite each other and try to swing your hook, which is suspended on a string, onto the hook with the right balance.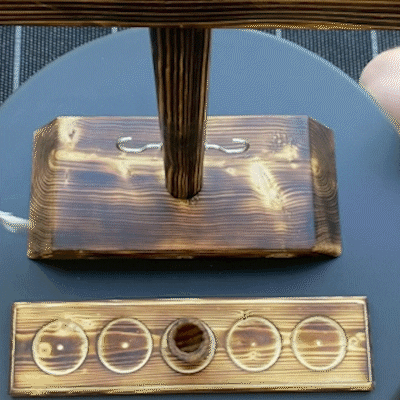 As soon as someone succeeds, he moves the wooden figure on the bar one square towards his opponent. If the figure can no longer move, the player at whose end the wooden figure is has lost. This sounds simple, but it is much more difficult to master.
The special thing about this is that both players play at the same time. This means that whoever hits moves the figure. At the same time, however, the other player has long since moved on and may already have scored another hit, thus moving the piece back to you.
Can you keep your nerves and a steady hand? Of course, the ring toss game can also be played in numerous variants, not least in a drinking variant. This makes it the ultimate party game!
Specifications:
Material: Wood
Product size: 30 cm x 2 cm25 cm
Payment & Security
Your payment information is processed securely. We do not store credit card details nor have access to your credit card information.